Take the FNH?A Health Benefits Client Satisfaction Survey
Download a print version of the FNHA Health Benefits Client Satisfaction Survey?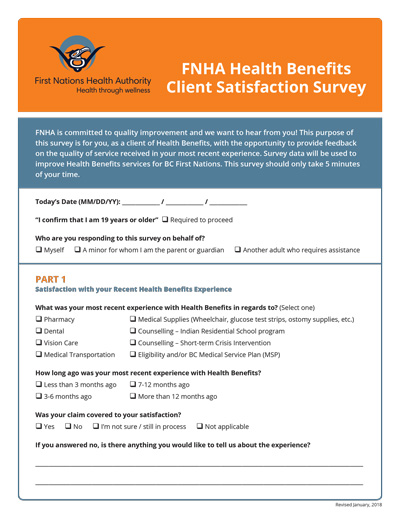 ?
Click here Client Satisfaction Survey FAQs
---
Welcome to the Health Benefits Home Page!
The First Nations Health Authority (FNHA) Health Benefits program provides a number of health related goods and services to meet medical and dental needs not covered by provincial, territorial, or other third party health insurance plans for BC First Nations.
The FNHA Health Benefits program currently includes coverage for:
• Dental
• Medical Supplies & Equipment (MS&E)
• Medical Transportation
• Mental Health – Crisis Intervention (Short Term)
• MSP – BC Medical Service Plan (CareCard)
• Pharmacy
• Vision Care
Our program strives to provide health benefits to BC First Nations peoples in a manner that:
• Is appropriate to the unique health needs of BC First Nations

• Leads to improved overall health so that BC First Nations health status is comparable to other Canadians

• Is financially sustainable

• Facilitates empowerment of individuals to access health programs and services as and when they need it

• Focuses health services towards wellness and prevention
Contact information for your Health Benefits Program?
General Questions/Benefits Support Representative?
Toll Free: 1.855.550.5454
Email: HealthBenefits@fnha.ca
?Dental Claims
Toll Free: 1.888.321.5003
Fax: 604.666.5815
Medical Claims
Toll Free: 1.800.317.7878
Fax: 1.888.299.9222
In-person Inquiries
1166 Alberni Street (near Thurlow Street)
Room 701, Vancouver BC
Short Term Crisis Intervention Mental Health CounsellingFax: (604) 666-6458
Indian Residential School Resolution Health Support Program (IRS RHSP)Fax: (604) 658-2833
?Indian Residential School Survivors Society Support Line

1.866.925.4419  (Open 24-hours a day, 7 days a week)

?Indian and Residential School Mental Health Support Program

Toll-Free: 1.877.477.0775  Fax: 1.604.666.6458?
Click here for the online format of the Client Satisfaction Survey:
https://interceptum.com/s/en/FNHAhealthbenefits
Click here for the PDF format of the Client Satisfaction Survey:
http://www.fnha.ca/Documents/FNHA-Health-Benefits-Client-Satisfaction-Survey.pdf